103002_1191899139733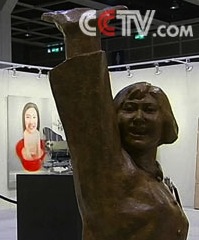 CCTV Televised Interview with Evelyn Lin & Emily de Wolfe Pettit at Sotheby's Hong Kong, October 2007
Contemporary Chinese art sweeps auction
At Sotheby's autumn sales on Sunday, Chinese artists have racked up new records. The stunning new prices highlight the world's new enthusiasm for contemporary Chinese art. What's more, experts believe this is just the beginning. The work titled "Project for Extra Terrestrials No. 10: Project to Extend the Great Wall of China by 10,000 Metres" is painted with gunpowder and scarred by burns. The work by well-known Chinese artist Cai Guoqiang fetched 2.6 million USD, nearly doubling his previous world record price. It's just one example of the hot new market in Chinese contemporary art. Sotheby's auction set a new record in total sales of more than 42 million U.S. dollars.
Evelyn Lin from Sotheby's Hong Kong said, "The market has matured over two to three years. New records have been set in the last two years. Many experienced collectors have started to release the artists' early works. Like the auction this time, there are many early pieces of the artists. That's the main reason they are breaking records." Many sellers saw their paintings beat top estimates as collectors snapped up works by both established and upcoming artists. The auction showcased the flood of demand for top-end Chinese art, and experts expect prices to continue to soar.
Emily De Wolfe Pettit, Director of Arts Influential China, said, "In terms of other big name international artists, contemporary and modern, the prices are actually relatively low in comparison, if you think of a Rothko going for 72 million. So the potential for the Chinese market, now that the mainland Chinese are diversifying their acquisitions and so on - this is just the beginning." Sotheby's Hong Kong four-day autumn sale featured over 1,100 works of art worth over 2.1 billion Hong Kong dollars.
- Edited by Zhang Ning from the original interview with Nina Mehra, Reuters, Hong Kong
Link to see the interview: http://www.cctv.com/english/20071009/103002.shtml