PAA OFFICIALLY PRESENTS THE NAMOC DIRECTOR TO THE PRESIDENT OF IRELAND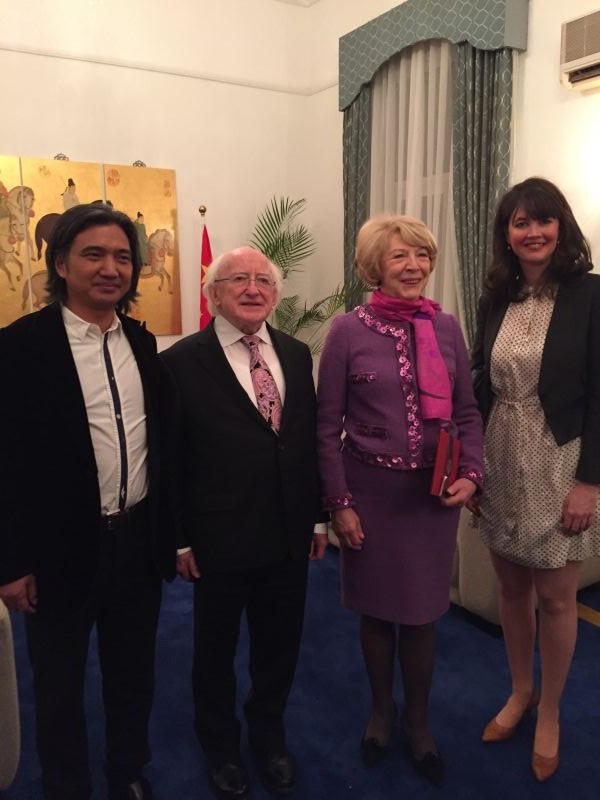 Peking Art Associates' Emily de Wolfe Pettit was proud and privileged to initiate the introduction of President Michael D. Higgins and his wife Sabina to the Director of the National Art Museum of China (NAMOC), Wu Weishan, at a private meeting on the occasion of the Irish President's State visit to China. Earlier in the evening, Ms de Wolfe Pettit was delighted to introduce Director Wu to Ireland's Ambassador to China, Mr Paul Kavanagh, and his wife, Rosemary.
Director Wu Weishan presented the President with one of his own bronze sculptures of an important series of his works that depict Laozi, the ancient Chinese philosopher and the 'father' of philosophical Taoism.
When asked by the President, Wu Weishan explained that the negative space of the sculpture, under Lao-ze's cloak which is inscribed with Taoist annals, was intended to represent the humility of the great philosopher which he described "as large as a valley".
In addition to his distinguished political career, President Higgins is also an acclaimed artist himself, being a poet and a writer of non-fiction works. He has contributed widely to political and philosophical journals on numerous subjects, including ideology, the sociology of literature, clientism in politics, regionalism and the politics of the media. President Higgins has to date published four collections of poetry.