Emily de Wolfe Pettit's Curatorial work for Rosewood Beijing Receives Mention in The Sydney Morning Herald, Dec 2014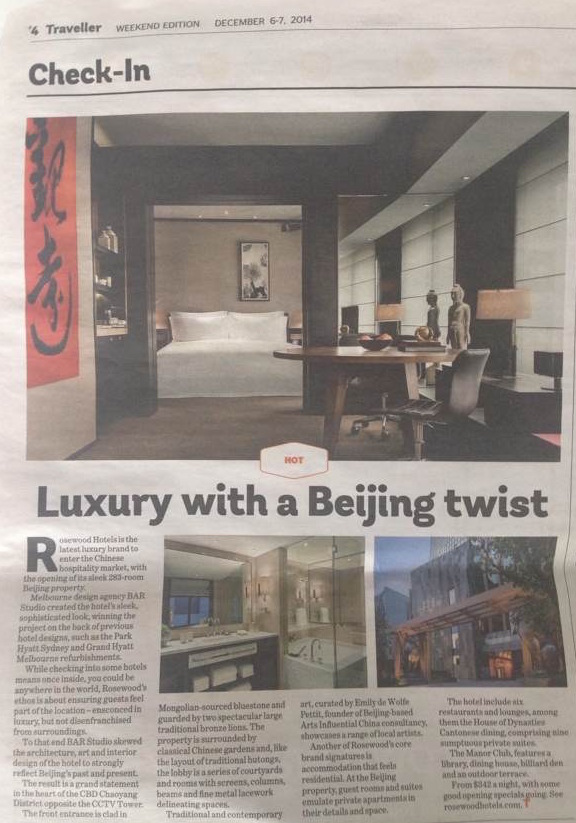 Rosewood Hotels is the latest luxury brand to enter the Chinese hospitality market, with the opening of its sleek 283-room Beijing property. Melbourne design agency BAR Studio created the hotel's sleek, sophisticated look, winning the project on the back of previous hotel designs, such as the Park Hyatt Sydney and Grand Hyatt Melbourne refurbishments.
While checking into some hotels means once inside, you could be anywhere in the world, Rosewood's ethos is about ensuring guests feel part of the location – ensconcing in luxury, but not disenfranchised from surroundings. To that end BAR Studio skewed the architecture, art and interior design of the hotel to strongly reflect Beijing past and present.  The result is a grand statement in the heart of the CBD Chaoyang District opposite the CCTV Tower.
The front entrance is clad in Mongolian-sourced bluestone and guarded by two spectacular large traditional bronze lions. The property is surrounded by classical Chinese gardens and, like the layout of traditional hutongs, the lobby is a series of courtyards and rooms with screens, columns, beams and fine metal lacework delineating spaces. Traditional and contemporary art, curated by Emily de Wolfe Pettit, founder of Beijing-based Arts Influential China consultancy, showcases a range of local artists.
Another of Rosewood's core brand signatures is an accommodation that feels residential. At the Beijing property, guest rooms and suites emulate private apartments in their details and space.
The hotel includes six restaurants and lounges, among them, Country Kitchen, a casual restaurant reflecting a local undercover marketplace and the House of Dynasties Cantonese dining, comprising nine sumptuous private suites. The Manor Club, features a library, dining house, billiard den and an outdoor terrace.
Read more at http://www.traveller.com.au/china-rosewood-hotels-new-luxury-digs-in-beijing-raises-the-bar-11v0hf