CHI MING SELECTED FOR SOLO EXHIBITION AT THE MINSHENG BANK MUSEUM, SHANGHAI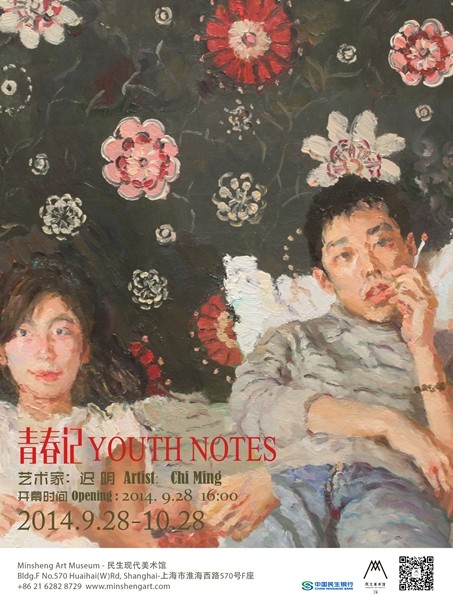 Peking Art Associates congratulates Chi Ming on the occasion of his 2014 solo exhibition at the Minsheng Bank Museum in Shanghai. This follows the solo exhibition of Chi Ming's former professor, acclaimed figurative painter Liu Xiaodong, at the Minsheng Museum in the summer of 2014.
As publicised by The Minsheng Bank Museum:
Shanghai Minsheng Art Museum will hold the second phase of Young-Artist Project "Circumstance and Attitude": YOUTH NOTES. 26 painting works done between 2013 and 2014 by the artist Chi Ming will be exhibited from 28th September to 28th October in the museum.
As the old saying goes "a son inherits his father", art… is of… exception. As a child brought up by two consecutive generations who embarked on art as a career, it is by no means a surprise for Chi Ming to step into art with such a resourceful cultivation. Compared to his grandparents and parents, Chi is the very fortunate one who can dive into and enjoy the freedom of art. All those uninhibited natures of him is thus being released yet facilitated fully through his highly expressive oil paintings.
By the intense yet meticulous colors and asharp yet real touch, he always can capture the souls of modern young people, be it men or women. He reveals the lives of living souls with intense emotions by conjuring a wild picture of young privacy, alluring lust, bold and direct attitude toward sex, as well as the constant pursuit of a tomorrow of freedomand imagination. Nevertheless, deeply down his heart one can still feel somehowthe childishly fragile and naïve psychology of a little boy, who miles andlaughs lovely while still with a sense of slight sadness and loneliness.
The artist wants to express the contrast of youth between his and his parents. "Our youth is all about self-affected mediocrity." This explains all those trivial and stale depictions all over his paintings. He chooses to face them right at the face. As he once put it, "Along period of my adolescence was obsessed with the sensual and alluring picturing about male and female. Actually, my curiosity toward sex had been developed farearlier than others even though I hadn't even reached my sexual maturity yet at that time." In such a way, Chi Ming has vaguely yet fully explored various possibilities of the subject, privacy. All his explorations and presentations have come down to those small-size paintings as a visual archive of youth, or amoving film, or what we name it as "Youth Notes".
⊿ About the Artist
Born in Yantai in 1984, Chi Ming later got a graduate degree from The Three studio of Oil Painting Department in CAFA, as the student of artist Liu Xiaodong. Currently he is working and living in Beijing.
⊿ Young-Artist Project "Circumstance and Attitude"
It is a new project by Minsheng Art Museum, which plans to annually invite 8 to 10 young artists to come to independently exhibit their new arts or projects."