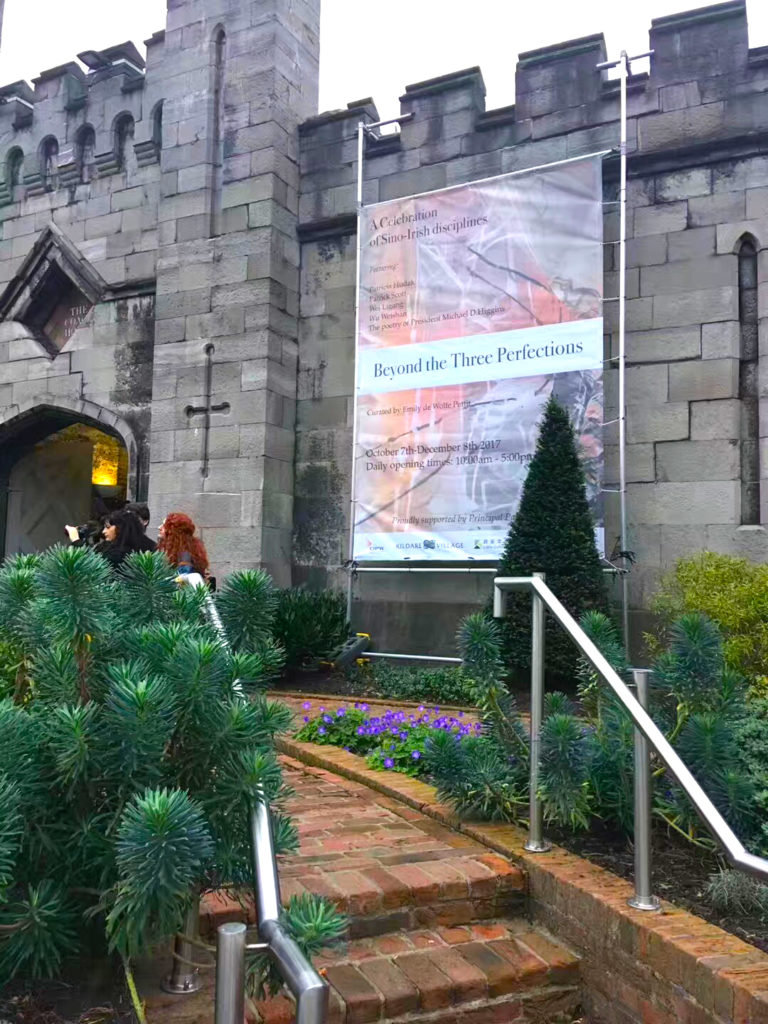 Peking Art Associates conceives and manages exhibitions that promote cross-cultural understanding between China and the rest of the world. In this branch of our work, we have designed catalogues, undertaken academic writing, to the complete project management of all components from curator and artist studio liaison to shipping to collector receptions.
Prior exhibitions:-
"Beyond the Three Perfections" is an exhibition initiated by Peking Art Associates, offering a unique artistic collaboration and anchoring point to the evolving Sino-Irish relationship. Featuring the poetry of President Michael D. Higgins; previously unseen works of the eminent Irish modern artist Patrick Scott; calligraphic works of Chinese calligrapher Wei Ligang and Irish-American calligrapher Patty Hudak and the sculpture of the Director of the National Art Museum of China and sculptor, Professor Wu Weishan. Curated by Emily de Wolfe Pettit. Supported by The Office of Public Works (OPW), The Office of The President of Ireland, The National Art Museum of China (NAMOC) and The Chester Beatty Library Museum, Dublin. Proudly supported by our Principal Partners: Kildare Retail Village and LIAN Cultural Foundation. Project Managed by Peking Art Associates Ltd. Event Management by Nevents Management, Kildare.
Jiang Shan Chun's solo exhibition 'China's History Teller' was presented by Peking Art Associates over Asian Art Week London in 2014. Hidden in a desk drawer for now over sixty years, Jiang's acorn of inspiration in bringing to light periods of history known only by hearsay and legend were fragments of photographic material the artist discovered several years ago on a trip to his Inner Mongolian hometown of Hohhot. Dating from the period shortly after the Founding of the People's Republic of China until the Opening Up Reforms, the faces of great innocence and aspiration have formed Jiang's muses in what is now two refined bodies of work of recent years, the Peace and subsequent China Dreaming series. While the ages and positions of the sitters vary, what is striking is the clarity and calm Jiang preserves, made more extraordinary when contemplating the irreversible life changes his subjects were to encounter in the subsequent quarter century - through familial separation, famine, complete reversals of social structures and widespread cultural decimation, and the no less dramatic changes in pursuit of the 'Chinese Dream' of the last thirty years.
The upcoming exhibitions managed and initiated by Peking Art Associates include:-
Marc Quinn will hold his first ever solo exhibition in The People's Republic of China. Staged at the museum of one of China's leading art academies, The Central Academy of Fine Arts (CAFA) in Beijing, in 2019. Quinn's exhibition at the CAFA Museum will also be noteworthy for its education outreach programme to the students of CAFA. The foundation of a comprehensive education is a passion of Marc Quinn, himself having graduated from Cambridge University with a degree in History of Art, and he is keen for his depth of knowledge to be passed to students of art in China. Expression of interest in curatorial directorship has now been received by a leading Chinese art historian and curator. The exhibition will be defined as a mid-career retrospective, and therefore include all the acclaimed works spanning Quinn's career. Such an event at national level has attracted the support of British diplomatic and cultural sectors of China and is an important contribution to bilateral Sino-British relations.
The inaugural exhibition of esteemed American artist Robert Indiana in The People's Republic of China is scheduled at national level at The Central Academy of Fine Arts Museum (CAFAM) in the form of a comprehensive full-career retrospective and the first comprehensive academic survey of one of the pillars of American Pop Art in China in 2020, project managed by PAA. The exhibition, several years in the making, shall feature all of Indiana's key art works over his career spanning half a century, on loan from important private and institutional collections and directly from the blockbuster American exhibition at one of the leading and oldest art museums in The United States of America, The Albright-Knox Museum, in June - October 2018 followed by Tampa, Florida. Through Indiana's most iconic works, both painting and sculpture, both monumental and intimate in scale, the public will be able to engage with a contemporary American cultural icon on multiple levels. Curated by Dr Joe Martin Lin-Hill, Deputy Director of The Albright-Knox, the exhibition shall be accompanied by a hardback bilingual book in Chinese and English charting American Pop art history, the artist's intrinsic role in it, and the influence of Pop in China with essays by leading American and Chinese scholars. Like Marc Quinn, PAA has strategised an education programme with lectures delivered by curator Dr Lin-Hill, Marc Salama-Caro and CAFAM Exhibitions' Director, Wang Chunchen; digitalisation of the exhibition and podcasts with an audience of many thousands more and exclusive film screenings that are available on the artist off-site.
A China Trade Silver exhibition and symposium supported by the Mexican Embassy, Beijing, and staged in the Guardian Culture Centre, Beijing has been initiated by PAA for Q4 of 2019. This exhibition of works on loan from significant collections of China Trade Silver in Hong Kong and mainland China shall be accompanied by a symposium of recorded lectures delivered by specialists in the fields of:- China Trade history; Socio-economic contextualisation of the China Trade Age; Qing Dynasty Canton- made Chinese Silverware; The mining and minting of silver in Mexico; Materiality and Aesthetics of China Trade Silver; Banking and its link to silver; private collection of silverware; Reception of silverware, fusion of styles, import of Chinoiserie into European 
silverware; art history and appreciation and metallurgy.